The HCK Retro Refrigerator is not just a refrigerator
As an essential electrical appliance in modern family life, refrigerator is of obvious importance. With the continuous development and progress of the Times, the refrigerator is not just a "refrigerator.". More and more young people are going after the refrigerator is fashion and sentiment, and this HCK retro refrigerator from Finland is the best choice for many young people, has made many people fall in love at first sight and fall in love with it!
HCK's retro refrigerator is a very eye-catching shape, seamless manufacturing process to create a one-piece body, unique 80-degree golden corner design all demonstrates its unique craftsmanship. In addition to the classic black, white and red colors, pink, blue and light yellow are all in Morandi colors, which are low key, elegant and high class.
In the internal structure, this refrigerator is also carefully configured, can be called "space magician ". Occupying only 0.32 M2, the refrigerator has 107 liters of extra-large double-layer freezer space, the upper level is 15 l four-star class freezer, the lower level is 92 l cold storage area, enough to meet the needs of the family daily refrigeration. It is worth mentioning that its four-star Refrigeration Chamber (up to-24 °C) , with a full range of high-density refrigeration tubes, electrified 1000 ML of water ice only 3 hours, cooling effect is
Remarkable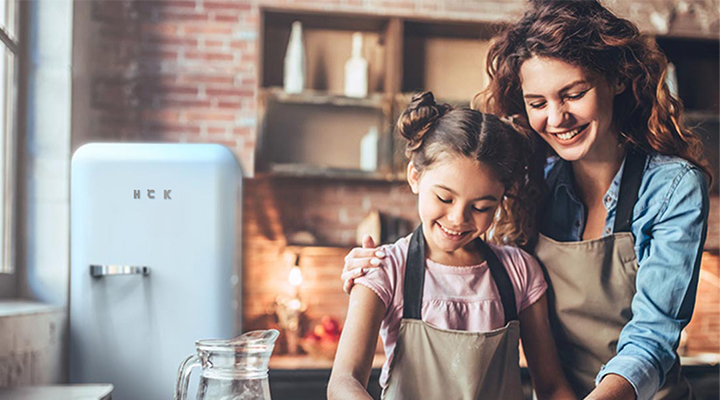 In addition to a high-looking, large capacity, but also the health and safety of users in the first place. As the first barrier to protect food materials, the door seal of the refrigerator is made of environmentally-friendly TPE materials, with an antibacterial rate of up to 99.9% , which can ensure the cleanness and freshness of the storage space to the greatest extent, and has obtained many international certifications of medical food materials, the quality is guaranteed. At the same time, the HCK refrigerator with high-quality compressor, after shock absorption and noise reduction, running sound as quiet as a library, all-round care of your private space.